PLANT BASED SALAD WITH TAHINI DRESSING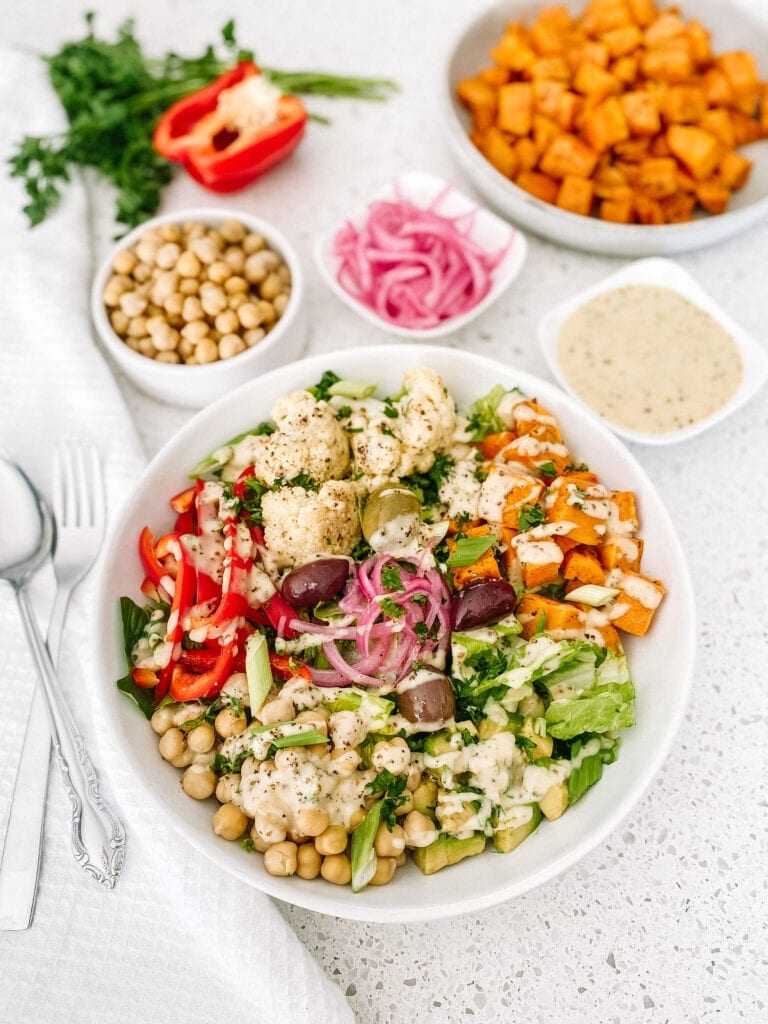 There is a lot of talk around plant based foods lately and I am loving the discussions around it. I was recently interviewed by Reader's Digest Canada for my opinion on plant based diets and I can't wait to share this article with you when it's released!
What is a plant based diet?
A "plant based diet" primarily focuses on a diet rich in plants, such as fruits, vegetables, beans, whole grains, soy, nuts & seeds. A plant based diet doesn't exclude animal proteins and allows for flexibility. I am all for flexible eating patterns, where all foods can fit, so it's a win win for us!
Canada's Food Guide from 2019, The Eat Well Plate, encourages a diet rich in plants which focuses on aiming for half your plate fruits & veggies, a quarter lean protein and the other quarter whole grains and/or starchy vegetables.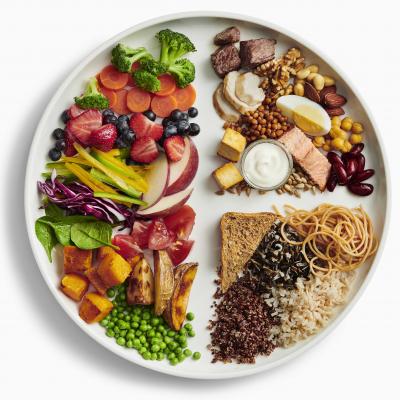 Are there benefits to increasing plants in your diet?
Yes! Whole foods derived from plants like fruits, vegetables, legumes and nuts & seeds are often rich in fibre and many other nutrients. Research shows that a diet rich in these plant foods can have many protective benefits against certain cancers and can help to manage chronic diseases such as diabetes, heart disease, high cholesterol and blood pressure to name a few.
It's important to be mindful of certain pre-packaged foods labelled as "plant based" as some of these foods can be highly processed. If you're thinking of adopting a "plant based diet" it would be beneficial to consult a dietitian (like myself), to assure that you are meeting all your nutritional requirements. Contact me if you have any questions!
With that, I present you this delicious plant based power bowl which you will love regardless if you are plant based, vegan, vegetarian or a meat lover. See below!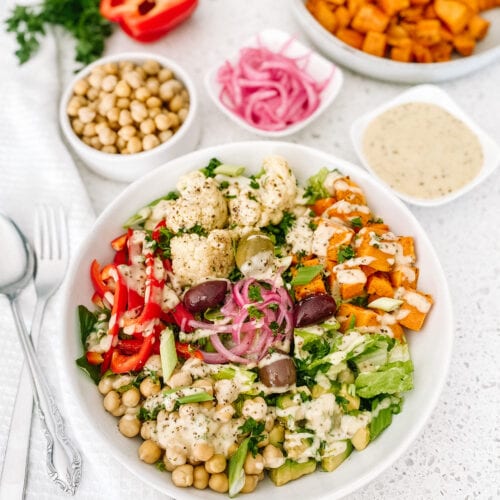 Plant Based Salad with Tahini Dressing
A delicious power bowl that will be sure to satisfy you!
Ingredients
Salad Dressing
1

lemon

1 1/2

tbsp

white wine vinegar

1/2

tbsp

grainy dijon mustard

2 1/2

tbsp

tahini

1/4

cup

olive oil

1/2

tsp

oregano

1/2

tbsp

maple syrup

2

cloves garlic

Salt and pepper to taste
Power Bowl
1 1/2

cup

romain lettuce (or spinach)

chopped

1/2

cup

roasted sweet potato (or whole grain of your choice)

1/4

cup

roasted cauliflower

1/3

cup

chickpeas (any bean of your choice)

canned (rinse and drain)

1/4

bell pepper slices

sliced

1/4

avocado, diced

1/2

tbsp

Fresh parsley
Toppings (optional)
pickled red onions (recipe below in Notes)

olives

green onions
Instructions
Vinaigrette
In a mason jar, add lemon, vinegar, dijon, tahini, olive oil, oregano, maple syrup, garlic and salt & pepper. Shake well and keep refrigerated for up to 1 week.
Assemble power bowl
In a large salad bowl, add lettuce, and layer with all other ingredients.

Drizzle desired amount of vinaigrette on top of salad and add toppings (optional). Enjoy!
Notes
Posted by Tamara Sarkisian