Chicken Noodle & Navy Bean Soup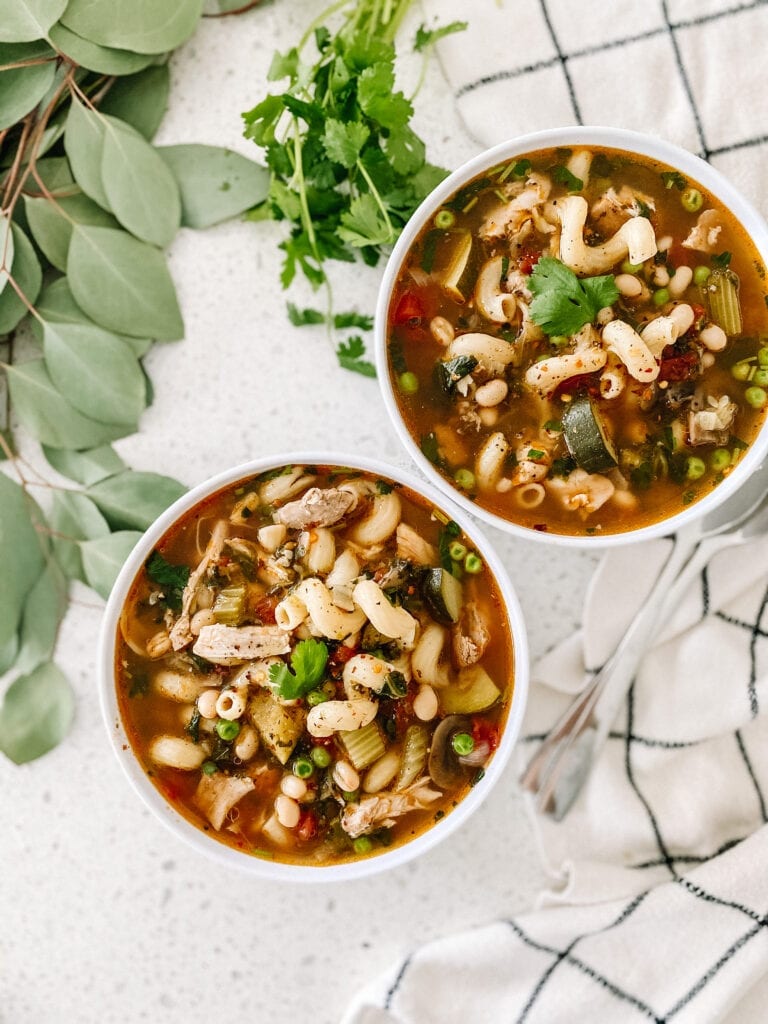 My fiancé and I moved from Toronto to Winnipeg in August 2020 for my finance's job. Since September, the weather has been so inconsistent and mostly cold. It even snowed in APRIL!!! Can you believe it? We got more snow in the last 2 days than all of winter haha. So it was only fitting to whip up a big batch of soup, because clearly winter is not over yet (sigh).
This recipe reminds me of the soups my Armenian grandmother would make for us growing up. My grandma lived with us since I was around 5 years old, and she always made the best Armenian food. My grandma passed away around 2 and a half years ago, but making these recipes brings back some good old memories.
You may not have snow where you live, but it doesn't mean you can't make soup on warmer days. I actually make soup all year round, but there's just something about a nice bowl of warm soup on a cold winter day. I'll be here enjoying this soup for the next few days, we have plenty of leftovers!
RECIPE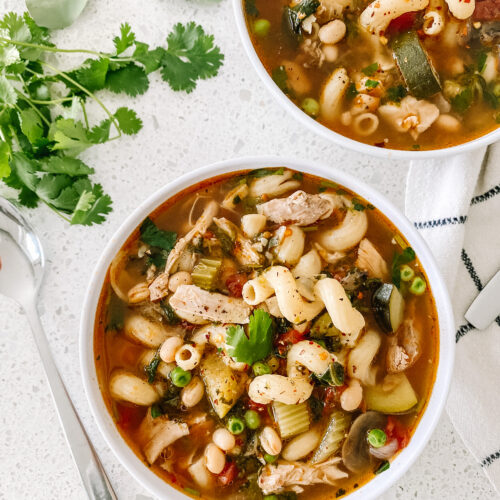 Chicken Noodle & Navy Bean Soup
An all season bowl of soup that you can enjoy anytime of year!
Ingredients
1

Tbsp

canola oil

6

chicken thighs

1

onion, diced

3

garlic cloves, finely chopped

1/4

cup

white wine

2

celery stalks, sliced

1

cup

mushrooms, sliced

1

zucchini, diced

1

Tbsp

fresh ginger

1

large can diced tomatoes

3 1/2

cups

chicken broth, low sodium

2

tsp

salt

1

tsp

ground pepper

5

cups

water

2

cups

noodles of your choice (cooked)

2

cups

spinach

1 cup

frozen peas

1

can navy beans

1/4

cup

fresh cilantro

optional

1/4

cup

fresh parsley
Instructions
Cook your noodles
Cook noodles of your choice according to package. Do not fully cook to avoid mushy noodles. Drain water and set aside.
Soup
In a very large saucepan, heat oil and place chicken thighs side by side. Cook on med/high heat for 7 min on each side, remove from pan and set aside.

In the same pan, add onions & garlic and stir. Add white wine to deglaze pan and stir for another minute.

Add celery, mushrooms, zucchini, diced tomatoes, chicken broth, water, salt and pepper. Return chicken into the saucepan and allow broth to come to a boil (on high heat). Skim the top of the broth as needed.

Lower heat, cover with a lid and simmer for 20-25 min until chicken is fully cooked through. When chicken is fully cooked, remove chicken from soup onto a cutting board. Cut chicken into cubes and return chicken pieces back in soup.

Add remaining ingredients such as spinach, peas, beans and cooked pasta. Stir and serve with fresh parsley and cilantro (optional).
Posted by Tamara Sarkisian